It's all about the small things in life.
Capture Every Intricate Detail in Brilliant Color, Controlled at Your Fingertips, Powered Anywhere!
CosmoGlo Mini Ring Light Macro Lens
Regular price

Sale price

$42.00
Description

Take excellent before and after up close photos for your page with our 
CosmoGlo Mini Ring Light Macro Lens




Enhance your up-close detail photos with our mini ring light macro lens photography accessory combines the benefits of a macro lens with a ring light to provide even lighting.

Making it perfect for before and after photos. The ring light provides even illumination around the subject. As a result, it will reduce shadows and highlight details that might otherwise be missed. This can be especially useful when photographing small objects or capturing details in close-up shots.

Our macro lens is compact and lightweight to carry wherever you go! The CosmoGlo Mini Ring Light Macro lens is a rechargeable, lightweight, LED light-up macro lens that clips in place over the phone camera. The macro lens fits most smartphones. It can be used in multiple settings to photograph close-up images for content sharing. Available in Black and Pink.

Free Shipping (for the continental USA) 
Adjustable touch control settings in 3 color tones and 3 brightness levels.
Includes USB charging cable, two lens covers, cleaning cloth, and protective bag. 
Ships in 1-3 business days. 

Accessories ship separately from CosmoGlo Lights.

 

For more information, CLICK HERE.

Not made in the USA. 

 
Questions?
Share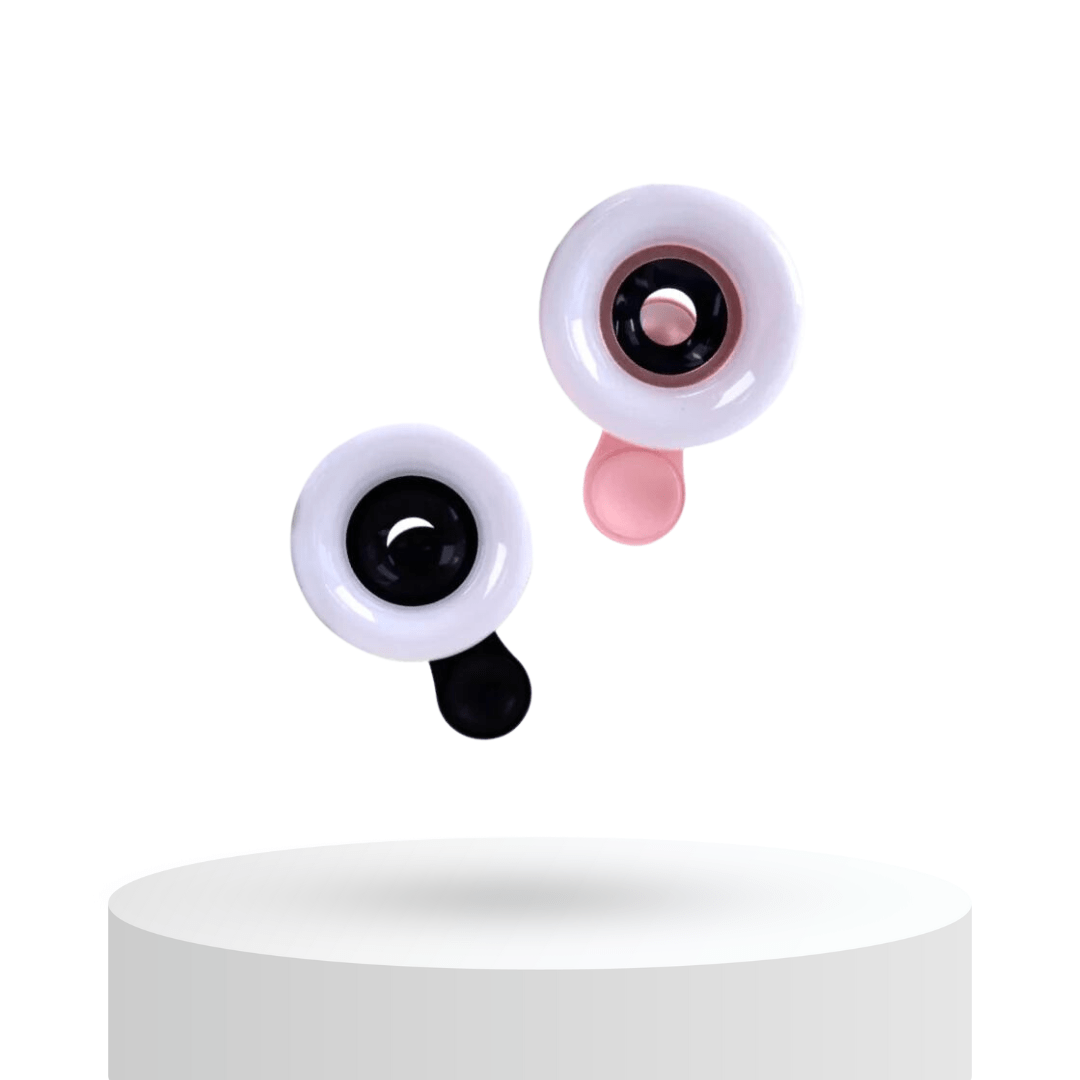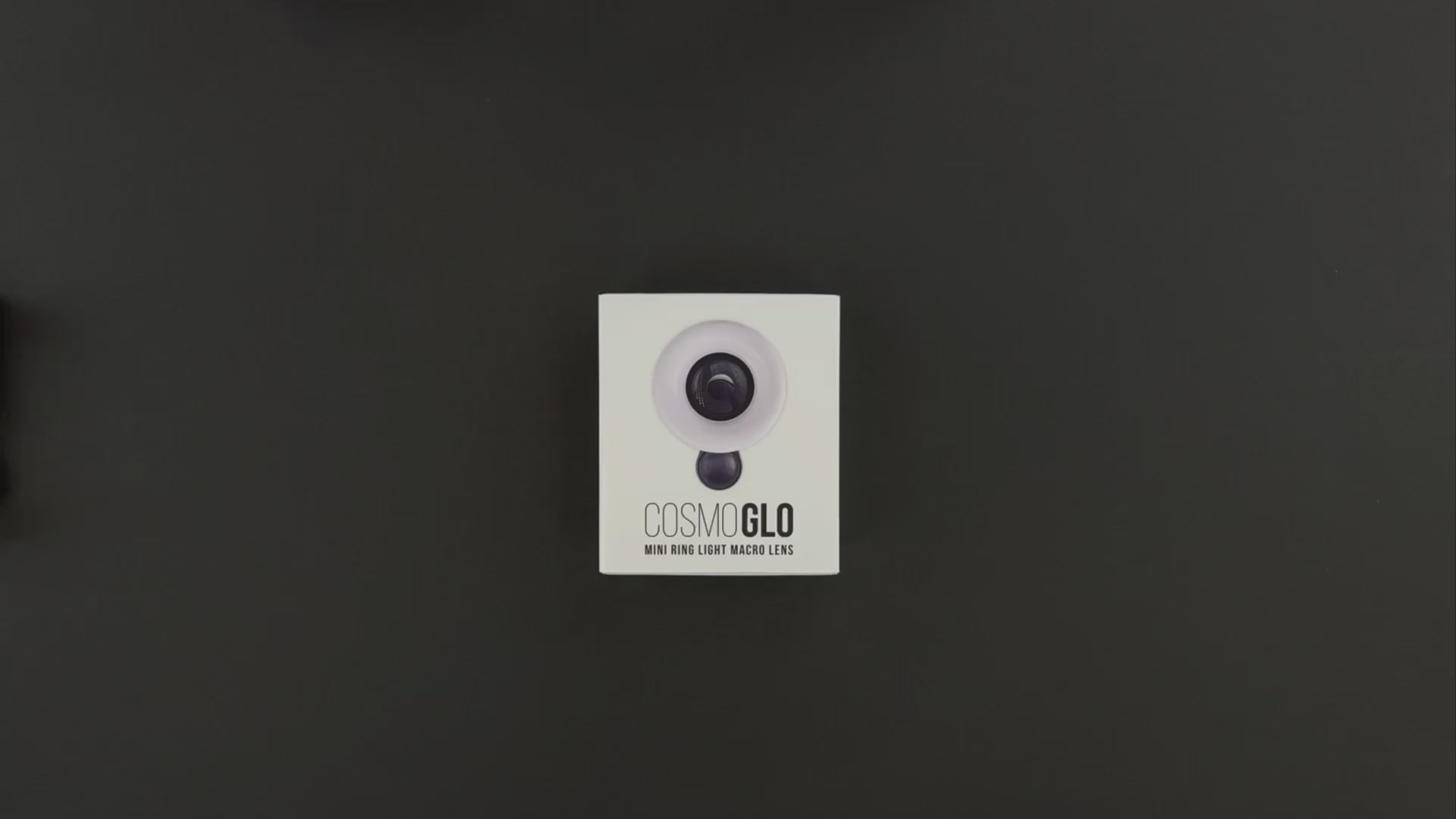 Key Features

Lens Controls

How it works
3 Color Tones
3 Brightness Levels
15x Zoom
USB Rechargeable
Touch Control
Versatile for Most Phones
Comes with Cleaning Cloth, Dust Cover, Charging Cable, and Carrying Bag, Instructions
Turn On/Off - Long Press
Change Tones - Medium Press
Change Brightness- Short Press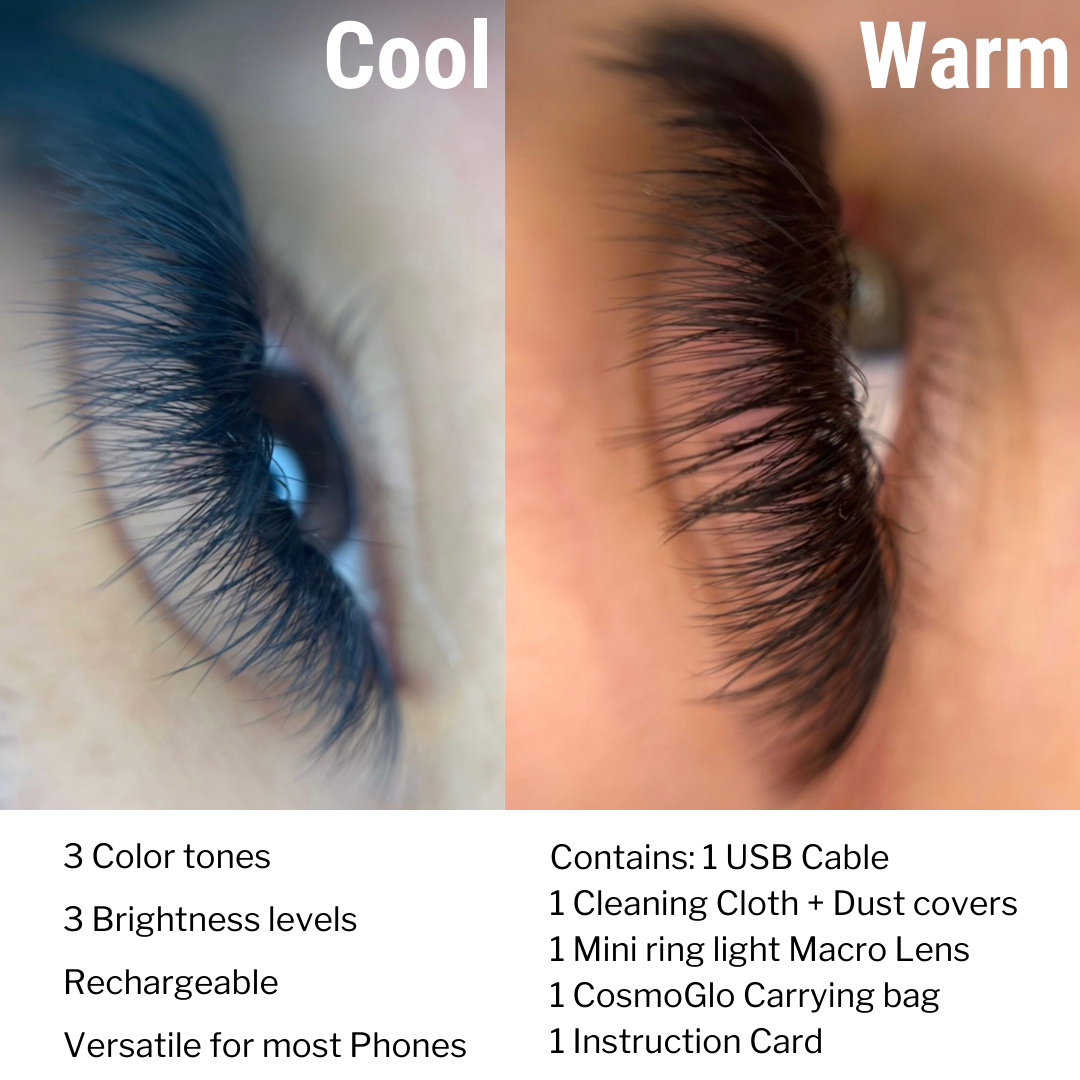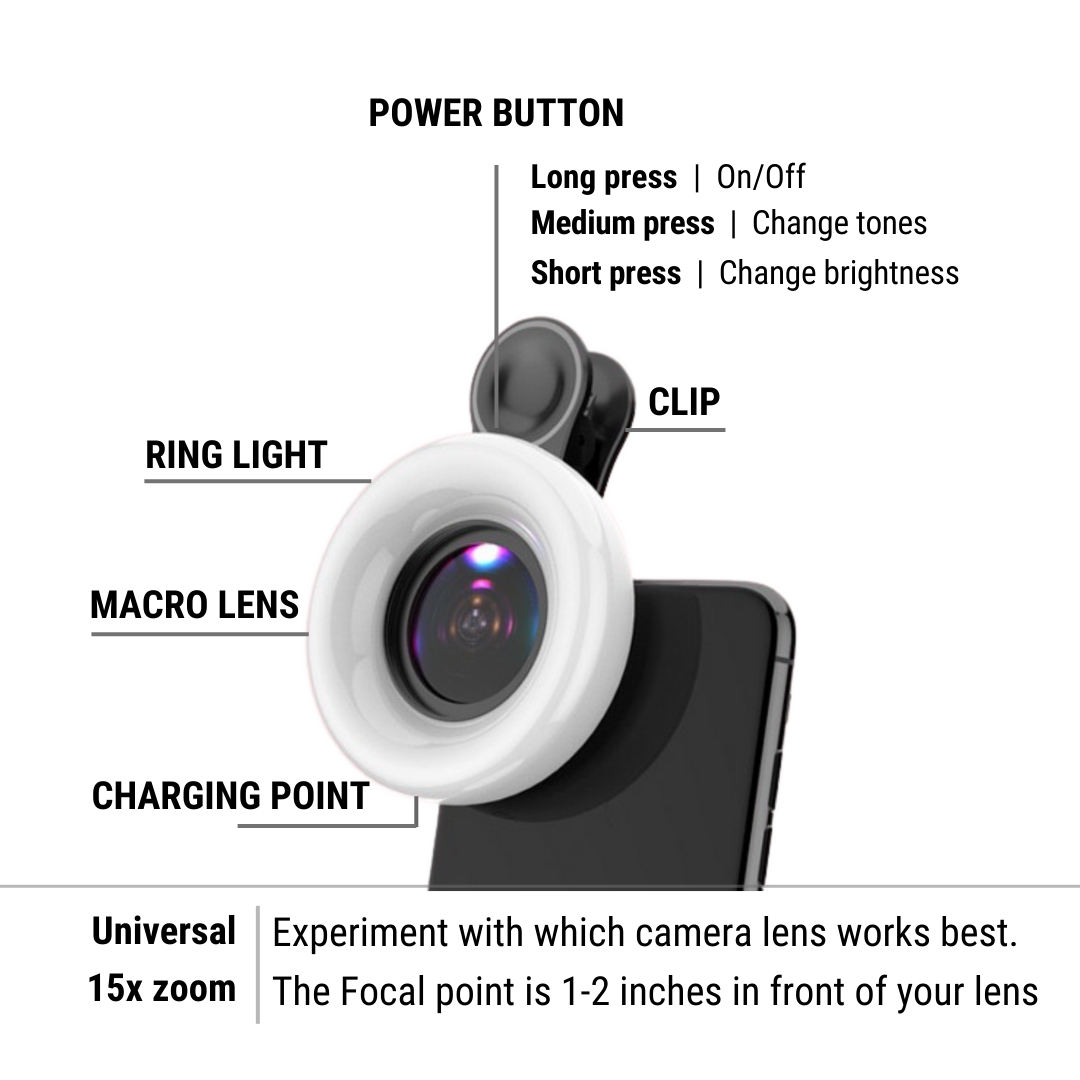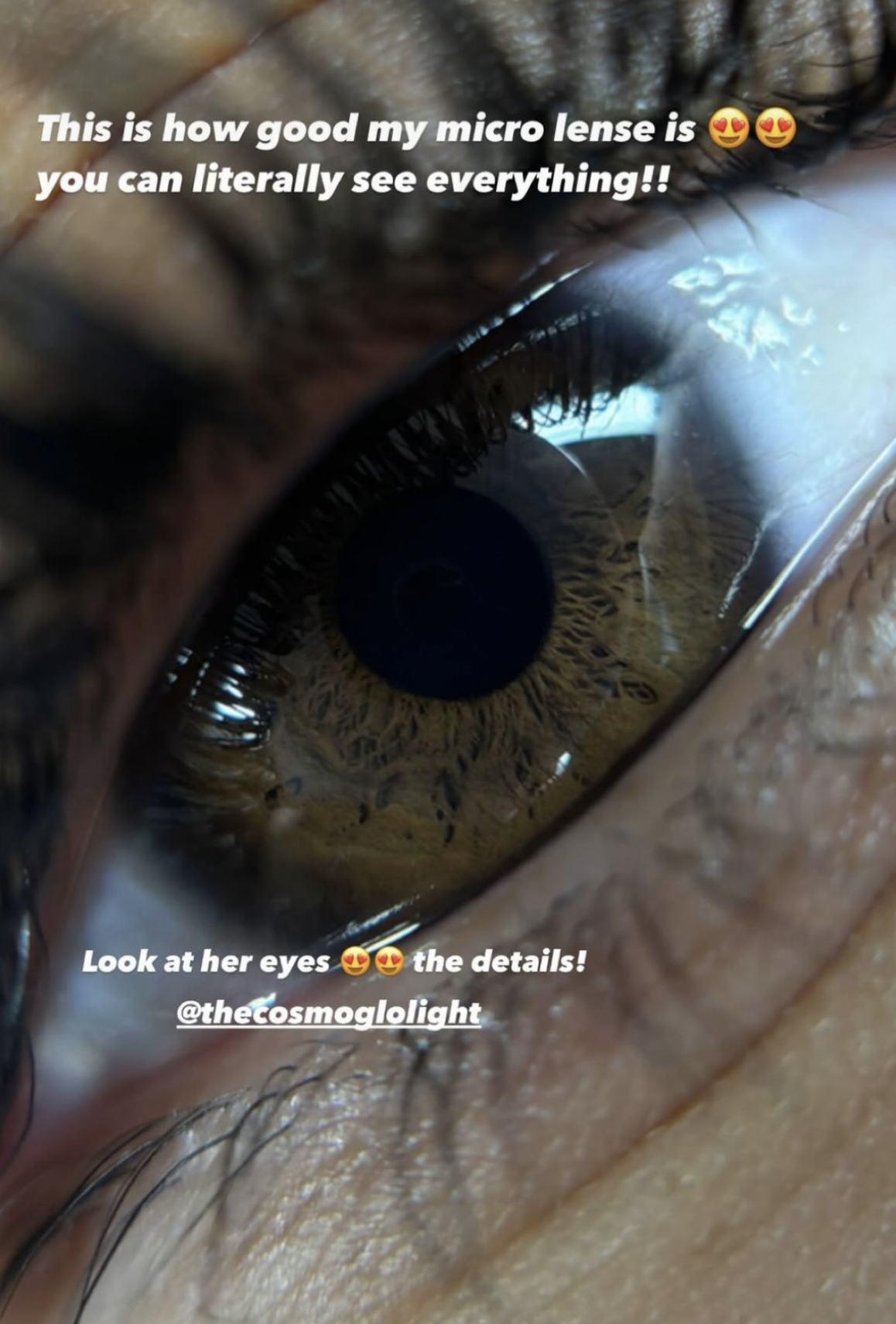 Macro Lens Review 😍
"This is how good my macro lens is you can literally see everything!!"
FAQs
How long does it take for my order to ship?

We keep our website updated on all of our current shipping timeframes.  You must agree that you acknowledge and understand these times during purchase.
Is there a wall or ceiling attachment or other types of bases? 

We do not offer any additional attachments or other bases. The CosmoGlo Light was designed with gravity and physics in mind for 360-degree movement of the lighted arc/halo and to gently glide away from clients. This is a heavier light and the flat base is what keeps the halo balanced. 
What kind of lighting does it give? Is it hot? Whats the brightness?

The LEDs used in CosmoGlo Lights do not give off heat even while using the brightest settings. They offer a fully adjustable, crisp, cool white light ranging from very dim to very bright settings for services. Our XL models offer 3 tones; cool white, warm and day.

The brightness ranges from approx. 4,000-10,000 lumens, or about 60-90 LED watts.
What are the dimensions / weight of the CosmoGlo and CosmoGloXL?

The original CosmoGlo adjustable height ranges between around 33 and 58 inches tall. The light is about 36 inches at its widest point from the edge of the pole to the edge of the halo. The base measures 23 by 10 inches and stands less than an inch tall. Each original CosmoGlo weighs around 28 pounds. 

The CosmoGloXL adjustable height ranges between around 45 to 70 inches tall. The XL is also 36 inches at its widest point from the edge of the pole to the edge of the halo. The base measures 23.5 by 12.5 inches tall and stands less than an inch tall. Each CosmoGloXL weighs around  31 pounds. 
For more questions visit the FAQ page.