Assembly
Thank you for your purchase and we hope you love your new CosmoGlo! 
Your light is a sturdy, large piece of salon furniture which requires assembly.  We recommend giving yourself plenty of time to set up and try out different heights, base positions, and halo angles to find the right positioning to suit your services and space.  
Please read the following information before assembling your products.
Please open your box immediately upon receiving your shipment, 
verify that you have received all parts and pieces, and keep the original box until you have chosen to keep your Cosmoglo. Returns are only accepted with the original packaging. You have 30 days to return your light in the original packaging for a refund minus shipping pending inspection.
---
Your light comes with a
1-year warranty
against manufacturing defects.  Please follow the instructions closely to assemble. We want your light to be pristine during this process. 
Cosmetic damages that occur during assembly are not covered in your warranty.
---
Please reach out to us if you need any help or advice during assembly - include your name, order number and any relevant pictures or videos that will help us help you. 
---
ASSEMBLY
Kit Contents: 1 set of CosmoGlo Parts, 2 Allen wrenches, 3 base screws, 1 phone clip with bands, and 1 powerbox. 
Not Included: You may also need one standard flathead or phillips screwdriver to finish tightening the pole connections, depending on the style of clamp your light uses. 
Please watch the video during assembly. We advise laying your light down while assembling and following the steps that we provide in the video. 

Loosen the clamp first to prevent scratching. Note: we have 2 different clamp styles - read our Clamp FAQ to learn more. 

Secure your halo when attaching to the base plate to prevent it from swinging around freely. 

We are not responsible for damage caused to your light during assembly as per our warranty policy.
---
 THE ORIGINAL CLAMP
Our original clamps have a reverse threaded screw and must be turned right to loosen and left to tighten. The clamp flap will need to be in the upwards position during adjusting the screw, adjusting the poles or removing the clamp.  The flap in the downwards position will cause it to tighten onto the pole.  Flathead screwdrivers work best for screw adjustments. During any and all pole adjustments, make sure to loosen your clamps to allow the poles to move freely rather than forcing the poles to budge causing scratching.  We will not cover cosmetic damages caused by assembly errors. Read our Clamp FAQ.
---
 

THE NEW STYLE CLAMP
If you received a light very recently, you may have our new style clamp.  The new clamp has a turn knob for tightening, and is secured to your poles with one normal phillips style screw.  Please submit a request to Support if you are having issues with your new clamp.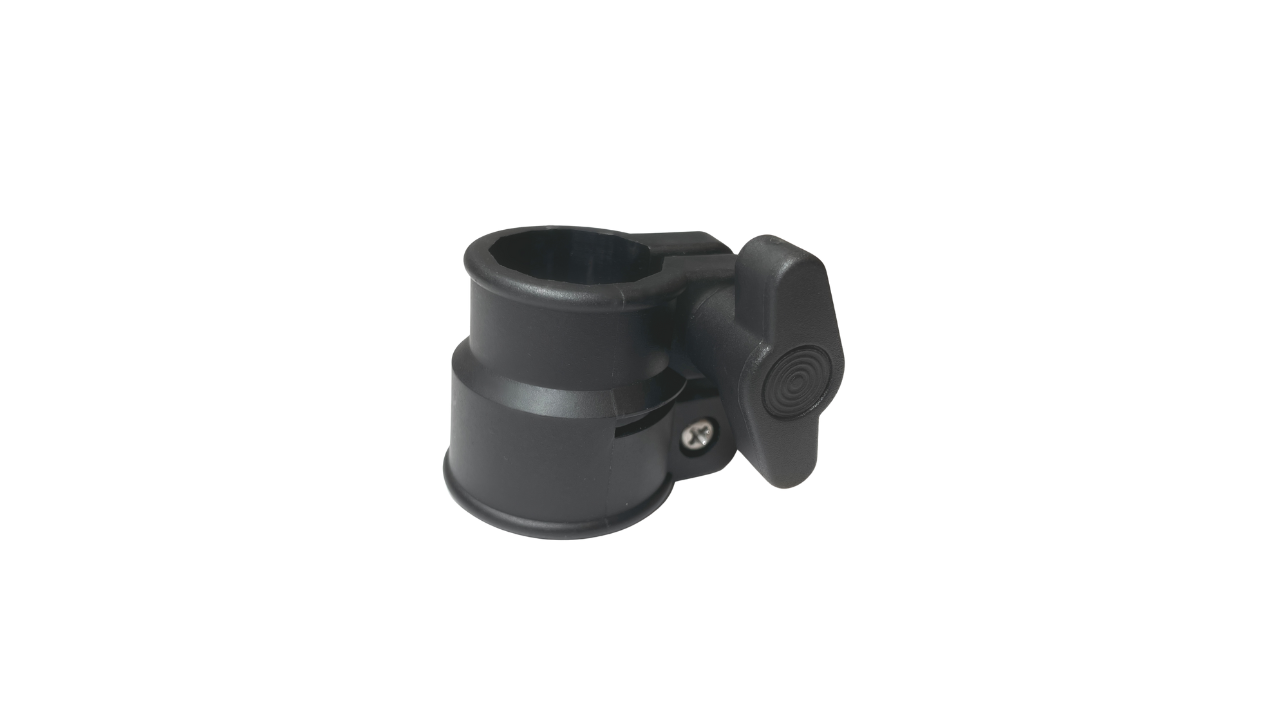 ---
THE BASE
You have 4 rubber feet on the bottom of the base. These are very important for the function of the cord.
Your cord uses the gap of the rubber feet to allow the cord to reset. If this is taken away your cord may twist itself without the relief of being able to unwind and can cause damage. Please take caution to avoid cord tension by placing anything heavy on the base such as a table or bed. 
---
THE HALO
We love our 360-turning halo and want you to love it too, by using it correctly. Let the halo rotate in both directions rather than repeatedly in the same direction. Damages done to cords from turning the halo in only one direction multiple times will not be covered under the warranty.
---
POWERBOX
Be sure all connections are fully inserted.  Use only the power box that came with your CosmoGlo Light.  If you have any issues with the power box, please contact us for troubleshooting and replacement options.  Please follow our guide on How to reset your powerbox before submitting a support request. 
---
THE PHONE CLIP 
Simple + minimalist in design, the included rubber bands are designed to hold the phone onto the clip for safety.  Our media clip was made to give you a consistent angle while still allowing you access to your phone with a simple clip-on/off method. 
See multiple uses for the phone clip including how to use it as a tv for aftercare videos.
---
CORDS
You will want to gently straighten your cords, running your fingers down the wire to remove any kinks to help it feed through the poles easier. The small black clip on your cord is called a ferrite clip, and is meant to help keep your cords in place during use inside the light. 
Avoid stepping on the baseplate when building, adjusting, or moving your light. Stepping on the base or applying extra pressure to it while adjusting height could accidentally damage your cord and your light may not work correctly. 


---
POSITION
The design's physics works best when it's positioned directly over the top of the base itself during services.  Our patented double pivot design (side to side complete 360-degree movement plus complete 360-degree halo rotation) was designed so that you never have to move the height of your light after you've adjusted it during set up. 
If you want suggestions for your setup, please Submit a Support Request for tips and personalized recommendations. 
---
RETURNS - SUPPORT - POLICIES
Your light arrived but isn't right for your space? No problem!  All returns must be shipped in their original packaging to keep the light safe, do not throw away your box until after you are beyond our 14-day return window and have decided to keep your light. Returning your light without the original box will require a box to be shipped to you at your expense to return your Cosmoglo. Please see our policies on returns, refunds, warranty, and our terms and conditions for complete information. 
Return + Refund Policy
Shipping Policy
Terms of Service
Warranty Policy
Should you run into any problems with assembly, use, or general website issues, please visit our Help Center or send us a message so we can assist you.
---
Our founder comes from the beauty industry and we have built an amazing company ready to answer your questions or concerns as quickly and efficiently as possible, please don't hesitate to reach out. That's what we are here for! 
Reach out to us via Instagram or through our Help Center email found on our website. 
With Love and Light,

The CosmoGlo Care Team 💡💜